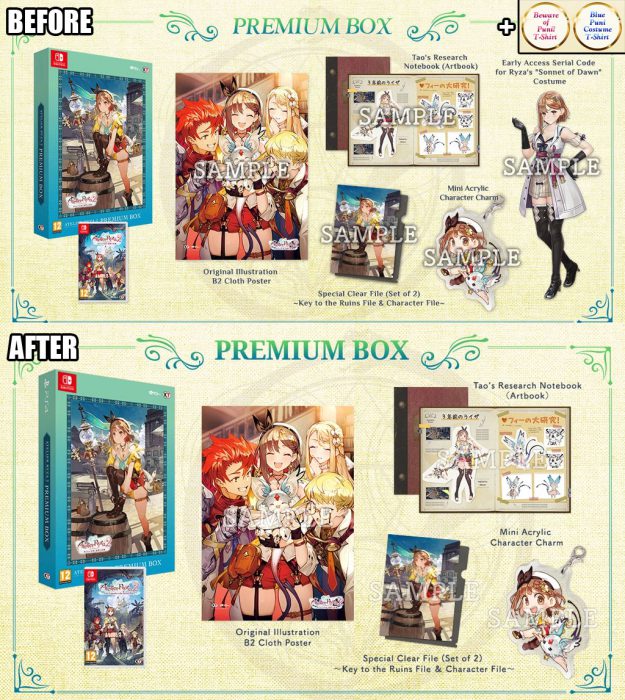 Oh man, oh man, oh man.
Grab a seat and popcorn, it's time for an autistic rant.
Way back in October, I pre-ordered Atelier Ryza 2 "Premium Box Edition" for the Nintendo Switch at the only place to get it in Europe; the Koei Tecmo Europe shop.
All was well. Until Brexit happened.
The company in charge of Koei Tecmo "Europe"'s webshop, Reef Entertainment, fucked up big.
They canceled all non-UK orders the week before release, and told everyone they'd re-open orders again once they sorted their shit.
This took weeks.
Orders went up again. Minus VAT, plus guaranteed Import taxes because DPD shipping.
For some stupid reason we still don't know, they'd start shipping them out a full fucking month after release.
The date came, and went.
What did happen on "shipping day" though, was that they changed the box contents without telling anyone.
They removed all the DLC codes from the Switch edition.
Upon confronting them, they told me they discovered they had all expired 2 weeks after the game's release.
From a delay they caused.
I argued with them for a full month as they kept delaying and delaying. Pissing me off further and further with them not doing anything to fix their mistake.
Nintendo and Koei Tecmo HQ couldn't do anything. KTEU/Reef and KT HQ kept pointing fingers at each other, emails went into circles.
I had enough when it was found out they had downright removed the DLC codes from most boxes during their new delay (After they had told me they'd stay in the box and I could try).
I canceled my order, because fuck all that. Not paying full price and import when I'm getting something incomplete.
The two refunds fucked me over in exchange rate as well.
I was done with them.
And for the cherry on top.
Someone tweeted recently that they received their box, with code, and it worked.
Fuck Koei Tecmo Europe, and Fuck Reef Entertainment.
Bunch of fucking delaying liars. You ruined Atelier Ryza for me twice now.
We'll never get to see that DLC re-appear again either, just like with Ryza 1.
Fuck this age of limited digital content.