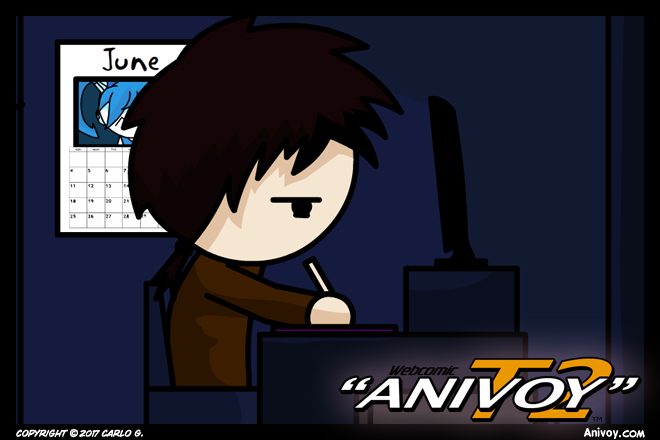 It took a while to get myself going, but Anivoy #138 is done~
I've been drawing these SD characters for 12 years now, and something I've always had trouble with (more so since Requiem for Sanity and drawing nice Non-OC) was with the legs when drawn from the side. Them being fat from that side as well, bending them just looked weird – so I always tried to hide it cleverly, like the raised & bended leg being in the back, or it being covered by the side of a chair if they're sitting (Which I still did in this comic, but I drew that before the change and I didn't want to change it..).
After almost finishing #138, I finally did something about that issue – and it took a goddamn nendoroid petit for me to realize how easy it was.
The style already underwent slight changes, like they started with their arms behind their backs (I forgot why), eye size and hair upgrades (You're finally getting yours, Haitani!), but this is a bigger one compared to those and even I might need some time to get used to it. I'm used to what I've been doing for 12 years after all. Maybe some other changes will follow suit. Changing Tsukimiya's legs felt strange.
tl;dr: Anivoy-style chars will now have butts and nicer legs (from the side).