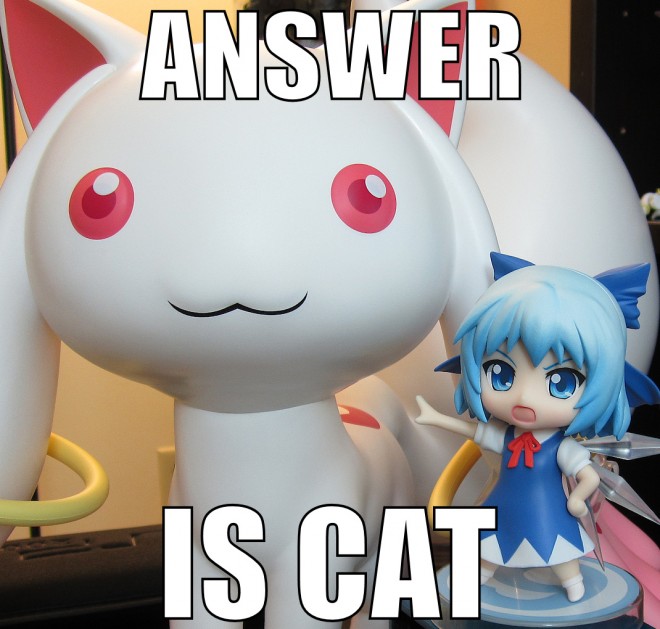 The results from the poll that Goodsmile Company had up are in!
First up, you can see the Nendo/Figma/PVC picks on their page.
The 4th button skips you to the last column, containing the figures that were suggested.
For a translated list, read on..
Figma Kaito (Vocaloid)
Figma Archer (Fate/Stay Night)
Nendoroid Horo (Spice & Wolf)
Figma Sakihata Rimi (Chaos;Head)
Figma & Nendoroid Okabe Rintaro (Steins;Gate)
Nendoroid Misaki Mei (Another)
Figma & Nendoroid Kinomoto Sakura (Cardcaptor Sakura)
Figma Hanamura Yosuke (Persona 4)
Nendoroid Matou Kariya (Fate/Zero)
Figma Yukine Chris (Senki Zesshou Symphogear)
Nendoroid Yuno (Hidamari Sketch)
Nendoroid Aichi (Cardfight!! Vanguard)
Figma Narukami Yu (Persona 4)
PVC Akazawa Izumi (Another)
Nendoroid Nemu (Vocaloid)
Nendoroid Koizumi Itsuki (The Melancholy of Suzumiya Haruhi)
Figma Gilgamesh (Fate/Zero)
Nendoroid Yin (Darker than Black)
Figma Kotomine Kirei (Fate/Zero)
Figma & Nendoroid Lancer (Fate/Zero)
Figma Raidou (Devil Summoner)
Figma Berserker (Fate/Zero)
Figma Ikari Shinji (Evangelion)
Nendoroid Teto (Vocaloid)
Figma Ryougi Shiki (Kara no Kyoukai)
Figma Konpaku Youmu (Touhou)
Some names in there anyone could have predicted, but others were quite a surprise.
Like a PVC for Izumi and a Figma for Rimi.
Just remember that the results do not guarantee a figure.