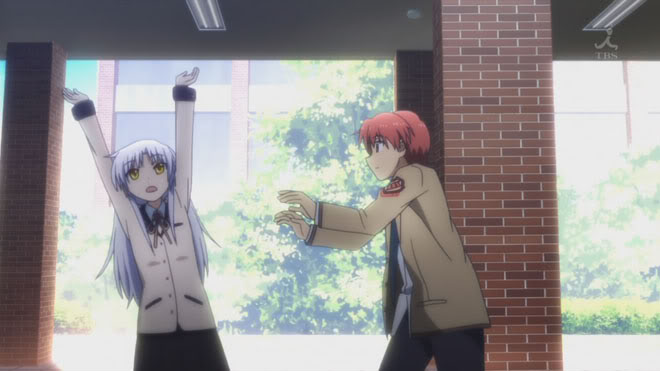 Otonashi and Kanade are going through with what they're exactly going to do while burning the trash.
He thinks Yui would be suitable to make at peace first.
Afterwards he asks how it's going at her end..
It took some time to make, but Kanade then reveals Hand Sonic Version 5 to him.
It looks more evil than angelic, because he told her to act like a cruel angel.
So she had to make it look mean.
Otonashi asks if she could also grow wings, because it would look cool.
She'll take it into consideration.
Kanade then ask what she's supposed to do.
Otonashi's genius plan is for her to barge in during band practice and take Yui's guitar "because others have been complaining about the noise". Then run off with it with Yui behind her.
Otonashi will then bump into Kanade and take over the guitar, giving it back to Yui. To act like a hero.
With that situation, he will be alone with Yui and can find out her regrets.
So GirlDeMo is practicing, but Yui gets out of rhythm too much.
Maybe if she just focused on singing?
Yui complains that Iwasawa did both singing and guitar and that they're popular anyways.
Then Kanade barges in, telling Yui her guitar is bad and it's killing the band.
GirlDeMo is amazed how she knows these facts!!
Kanade than takes Yui's guitar and runs off, proceeding to give it to Otonashi outside.
But Yui didn't follow her..
Otonashi checks out the classroom and sees the band practicing again.
Yui without the guitar is more in sync with singing apparently.
Yui starts throwing a tantrum afterwards and decides to go after Kanade.
Otonashi gives Kanade her cue and the chase starts.
(I must add, Kanade looks adorable holding that guitar)
Outside, Otonashi gives her a small push and Kanade throws the guitar into the sky, going "Wah~" (HHNNGGG).
Clearly it was thrown way too high, but the details don't matter it seems.
Otonashi catches the guitar without any problems of realistic WEIGHT (But hey, it's the After Life) and returns it to Yui.
He has become a hero in her eyes.
He comments on how she's doing whatever she wants. Being the vocals in a band.. But Yui says that is not the case.
Just one of the things she wanted to do.
One of LOTS of things.
They decide to talk further elsewhere and they buy some cans of Key coffee (Buy yours now!).
He asks Yui what else she wants to do.
She wants to do more things than other people, because after an accident when she was small, her body got paralyzed and so, she couldn't do anything.
Well basically, thanks to TV influence, she wants to be in a band, hit a homerun in baseball, play soccer and do some pro wrestling.
Otonashi still decides he shall fulfill all those dreams of hers.
So let's begin with that wrestling.. The German Suplex!
But she's doing horrible, just throwing him around.
She can't even do a bridge right.
Several hours later, after some training, she can finally.. somewhat do a bridge.
And the German Suplex succeeds!
More Key Coffee is bought and Otonashi asks if a penalty kick is fine.
But no, she wants to dribble against five people.
So Otonash goes out to look for people.
He asks TK if he knows where 5-Dan is, but he's currently in Mountain Training.
TK will do for now then. He asks him if he can gather 4 other guys for him.
Later, in the boys bathroom, Noda, Hinata, TK, Fujimaki and Otonashi are reading a letter of challenge, presumably from Kanade.
Calling them weak and demanding a fair match.
And so, at the soccer field, there's Yui. Not Kanade.
She starts kicking the ball as Otonashi tells some bullshit to convince the others of stopping her to make a goal.
And so, everyone charges at her.
Noda is about to tackle her, but then something shoots him in the face.
Fujimaki gets kicked by Yui while he calls for the ref, who's incidentally Yui herself. She claims safe.
Running on, Otonashi and TK charge at her.
TK's doing awesome with taking the ball, but then Otonashi bumps into him.
Yui is now only faced with the goalkeeper, Hinata!
She shoots, something changes the direction of the ball, she scores!
Yui wins! ..and the guys pride is crushed.
Otonashi gives a thumbs up to the hiding Kanade.
Next up, baseball.
She wants to hit a home run that goes over the fence, but she can't even get close.
They practice for days and Hinata starts noticing it.
Otonashi calls it a day and Yui leaves, with Hinata picking up the bat for a run.
The next day, Yui's still sluggishly throwing her bat around.
Yui feels like giving up, it's enough.
She can already do way more than she could do when she was alive, and it was amazingly fun.
Otonashi asks if all her regrets have been fulfilled.
Yui says there's one more thing: Marriage.
Otonashi can't marry her of course, it would be a lie, false love.
Then Hinata shouts from afar that he would marry Yui.
Hinata is serious about this.
Even if she can't walk or stand, or can't even get any children. He'd still marry her.
They start fantasizing about a world, for when they reincarnate, that is similar to their old lives.
Only this time, he would accidentally throw a baseball through Yui's window and meet her.
From then, they grow closer from friends to a couple.
All that remains before Hinata is the helmet and bat Yui had.
Otonashi asks him if it's really okay for him.
Hinata's fine with it. He decides he'll help Otonashi to get the rest of his friends to move on, since he knows the feeling.
The next day, however..
A mysterious shadow attacks Noda, which he slices into half with his halberd in defense.
Ooyama is frightened to death during this.
Yusa reports it to Yuri, who can't understand a thing that is going on..