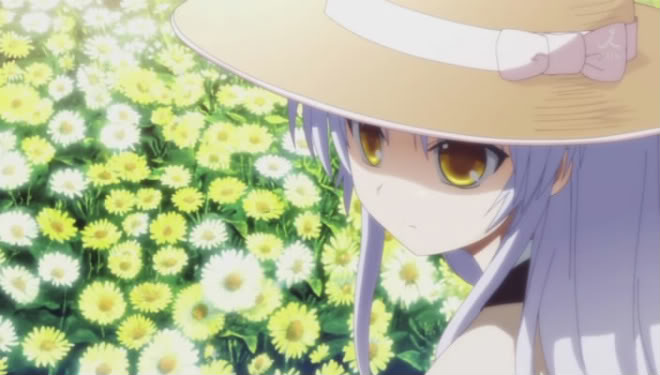 This episode will be focusing on Otonashi's past in the first half.
The second half is another "Randomness with the SSS" type.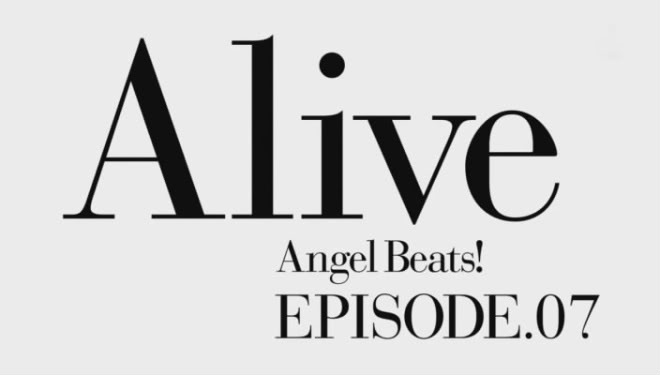 The SSS is amusing itself in their HQ as usual.
Yui is nagging Hinata to try her new move son him, while others are doing what you'd expect them to do.
Ooyama had a bunch of those wind-up dolls from EP2 apparently, which Shiina still finds very cute and TK is teaching 5Dan how to dance.
Yui finally leaves Hinata alone, who is saying they keep adding more brats.
Naoi, sitting next to him, takes offense to this. Saying he's his God.
It ends with Naoi hypnotizing Hinata into believing that he's lower than a clothespin.
Otonashi smacks him against the head. Naoi goes full-dere against Otonashi, wishing him a good morning and that he went easy on Hinata.
He made a grown up man cry..
Yuri comes in to call the both of them to discuss something.
Basically, she wants Naoi to hypnotize Otonashi to get his memories back.
Otonashi isn't very supportive of the plan.. Everything could change.
He gets convinced and Naoi starts the hypnosis..
Otonashi visited his ill sister, Hatsune, in the hospital all the time.
He would buy her manga from the money he earned with his part time job.
He didn't like to go to school and disliked society in general. He had no goal in his life.
All he wanted to see was his sister smile.
He sneaked her out of the hospital on Christmas so they could walk around town, visiting stores and looking at the decorations.
After the trip, he is seen moving out of his home.
His sister seemed to have died that Christmas night.
He looked depressed through the streets, looking for a goal in his life.
Now that he has lost her, is his life over?
Then he sees a kid getting released from the hospital. Then he realizes.
He wanted to devote his life to help other people and tried to become a doctor.
When he was finally accepted into an university, his train got into an accident and he died.
He asks Naoi and Yuri to leave the room, so he can collect his thoughts.
He died trying to reach his dream. How could he die like that!?
After he's calmed down, he meets Yuri on the roof, realizing how strong she actually is.
She denies that and asks if everything is alright. If he'll continue the fight.
He nods and says he'll be in her care again.
Today's operation will be Monster Stream.
They will go and defeat the Master of the River.
Otonashi immediately imagines some horrible monster..
As they leave to go for the river, he sees Kanade attending the flowers in the garden.
He calls out to her, inviting her to join them to go fishing.
Kanade gets convinced, even though it's against the school regulations.
However, the SSS screams in fear as they see the two together.
The SSS meet up with a member of Guild, Saito, who's apparently a big fishing freak.
He dragged all the equipment they needed to the riverbank.
And so, the SSS start their fishing adventure.
Otonashi teaches Kanade how to fish, with Hinata and Takeyama being victims of her passive Overdrive skill.
Saitou notices she might be able to fish the master of this river..
Like on cue, something is pulling on her rod as the sky darkens.
She got Monster Stream hooked!
The entire SSS (Besides Yui who's just insulting Hinata and Yuri.. God knows where she left to) are helping Kanade and Otonashi out to catch
Monster Stream.
Kanade uses her monstrous strength to jump into the air, dragging Monster Stream and the SSS with her.
As they're all falling, Kanade realizes she must do something to save them, or they'll all fall into Monster Streams mouth!
She splits into two, with her clone chopping the fish into pieces.
It might be good idea to give the leftover fish to the students, since this is more than enough to replenish their food supplies.
As they're giving away the food to the students, Otonashi asks Kanade if he can call her by her first name and that she calls him Yuzuru.
She nods and they've sealed their friendship.
As they start cleaning everything up, a wounded Yuri collapses near them.
She's been attacked.. By "Tenshi".
But Kanade was with the SSS the entire day. How is this-!?
And then there, on the rooftop stands another Kanade. "Red-eyed Tenshi".