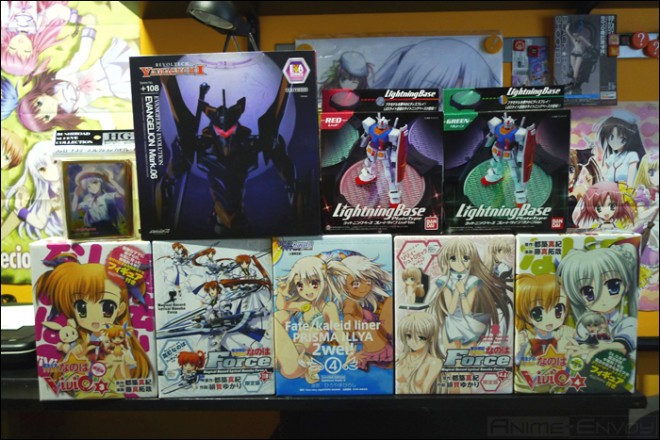 Hm…. Yes.
From now on I'll probably do a loot posting every Saturday (Err, though we're almost two hours into Sunday here).
The 4-month-catch-up is still on Figure.fm, if you feel like staring at those and the stuff from October 1st is here.
The 2nd week of October's loot: Start!

Back of the Manga bundles boxes. You only get a peek at Illya.
Keep in mind that I had to enhance the levels/saturation/brightness etc of these pics in Photoshop because the light sucked and it was gloomy & rainy outside, so natural wasn't a help either.
And I'm still new at this lighting editing stuff.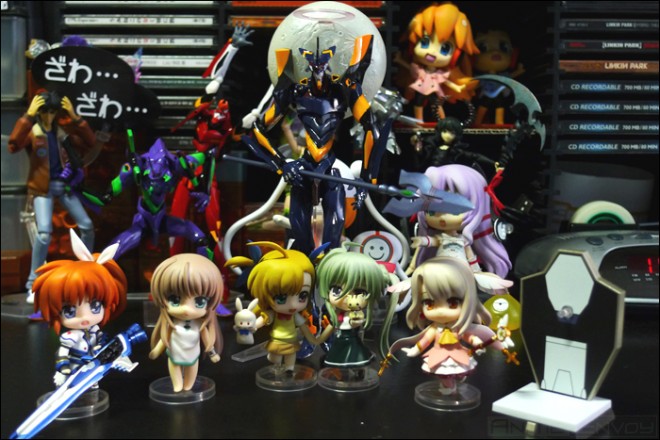 This Saturday we got:
Nanoha Force vol 3 w/ Nanoha Petit
Nanoha Force vol 4 w/ Lily Petit
Nanoha Vivid vol 3 w/ Vivio Petit
Nanoha Vivid vol 4 w/ Einhart Petit
Prisma Illya vol 4 w/ Prisma Illya Petit & Drama CD
Revoltech Evangelion Evolution Unit Mk. 06
Bandai Lightning Base Green
Bandai Lightning Base Red
Bushiroad Kanade card sleeves
The last three not being on the "unpacked" photo.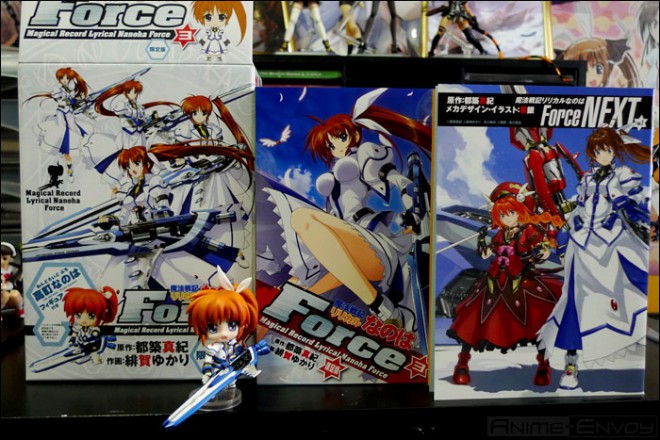 Force vol 3 came with the Nanoha Petit, vol 3 of the manga and a lil booklet with those Force NEXT Profiles you often see in Nyantype.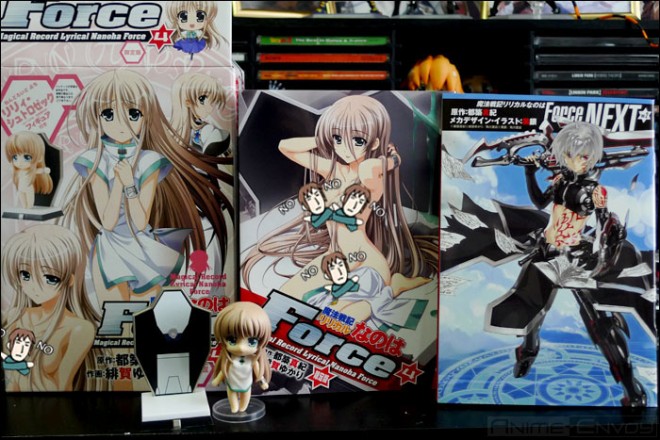 Force vol 4 has the same, only then vol 4 and a Lily Petit.
You can remove her clothes for the tragic naked heroine being crucified look if you feel like it.
Nendoroid aside, I was pretty surprised to see THAT as the volumes's cover!
Kyon-censored for worksafe content~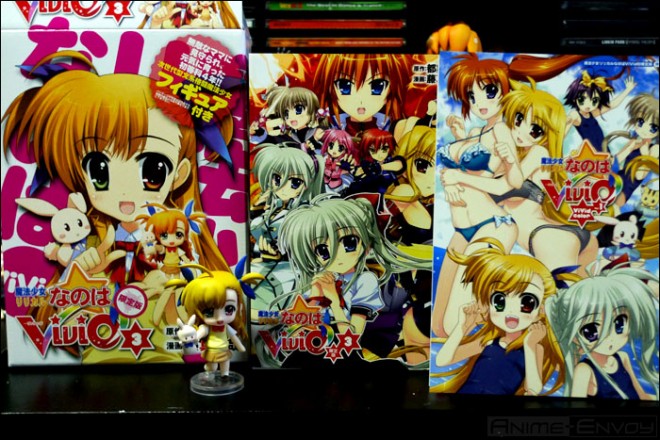 Vol 3 of Vivid comes with the vol 3 manga, Vivio petit and a booklet with some character profiles of the Vivid Main Cast.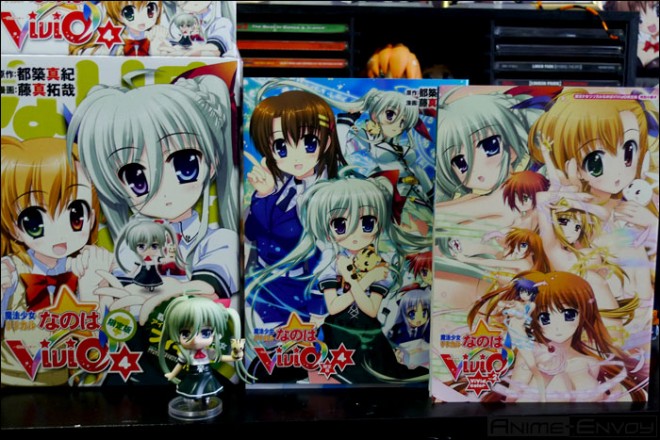 Vol 4 on the other hand comes with a niiiiiiiiiiiiiiiiiiice mini artbook. And the manga & Einhart petit, of course.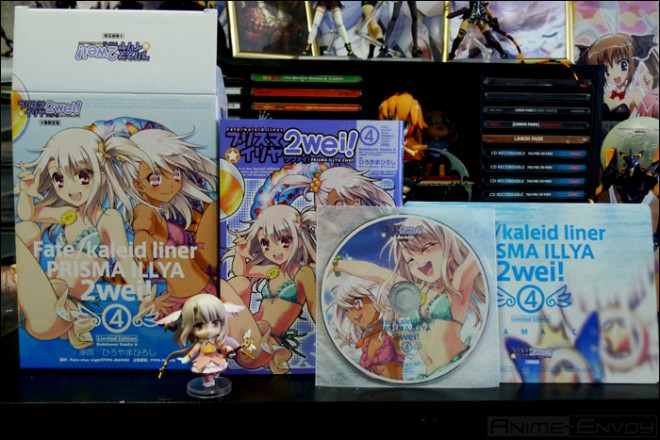 Prisma Illya vol 4 comes with the vol 4 manga, Prisma Illya petit and a Drama CD I won't be able to understand unless I magically learn Japanese or someone in the future is kind enough to translate the thing!
Still, all that swimsuit service.. This volume even contains the Mana Recharge chapter.. Oh yeah~.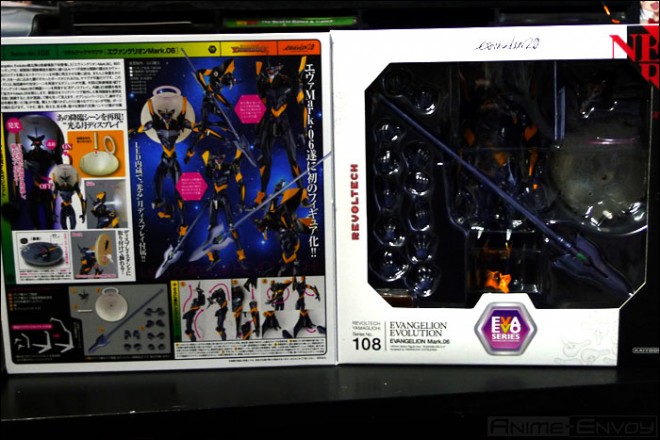 Revoltech EvaEvo Unit Mk 06 is pretty scarce in accessories compared with 00 to 03.
But the Moon effect part is pretty neat.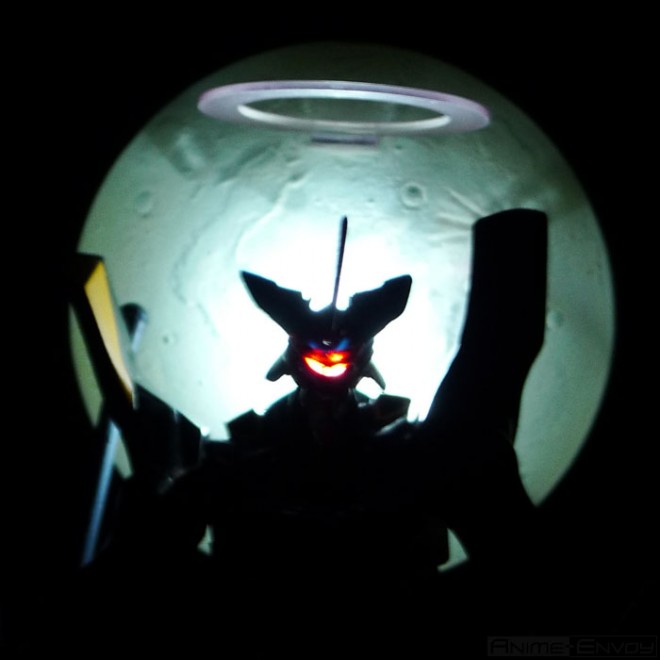 "I have come to thrust my spear into you, Shinji."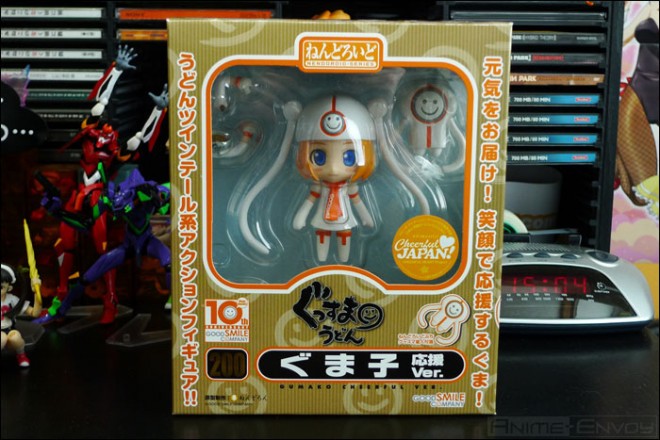 Before the above mentioned loot, Nendoroid Gumako arrived solo on Wednesday.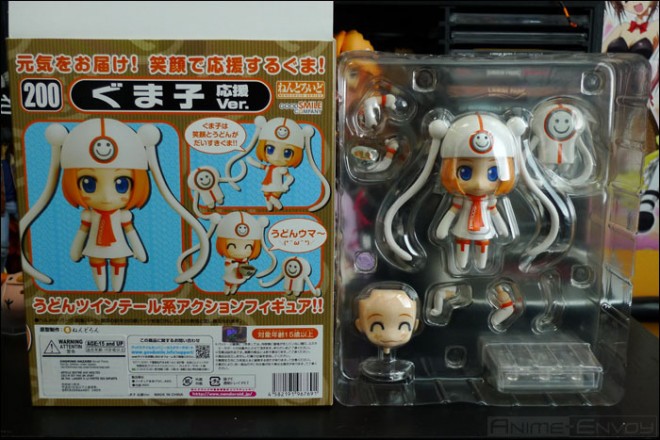 I didn't receive the greatest quality. There was dirt on the faces, shoulder and helmet. I managed to remove most..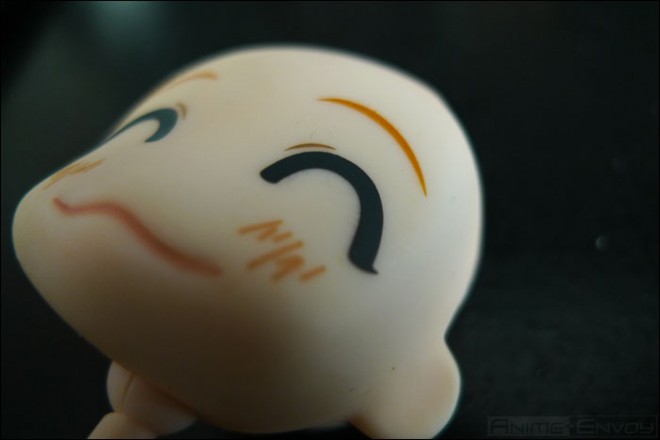 But face 2 here just won't let me get it off. One of the eyes is also printed on pretty murky.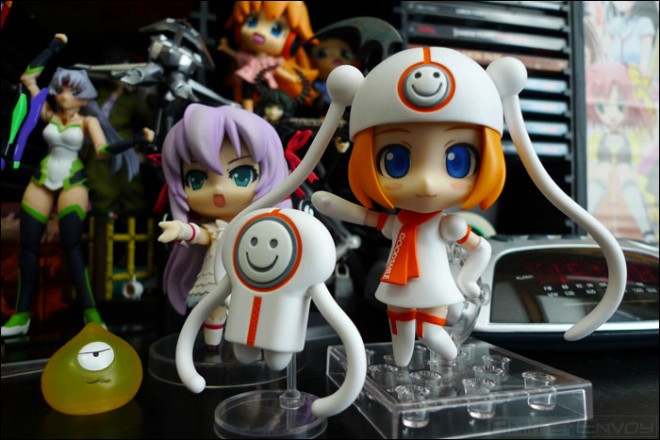 But her standard face is cute enough.
She's also super light because everything that isn't skintone is made from plastic instead of the usual pvc/abs they use for the faces.
Now I somehow ended up ordering S.H. Figuarts Takuto from Star Driver (Haven't even watched the show yet!) for 900 yen at AmiAmi. Oh woe is my wallet..