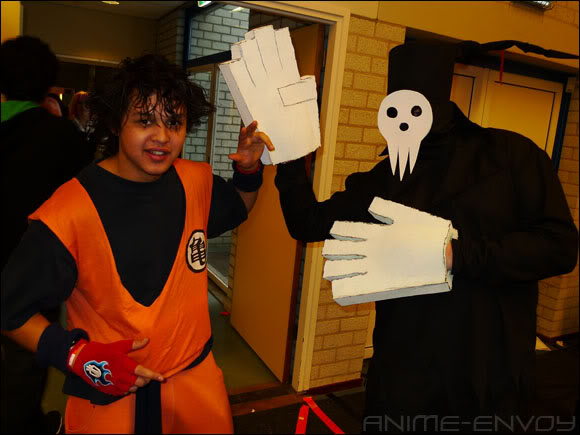 Hello everyone.
Have you been well?
Before moving onto the main subject of the article, a small announcement will be in place. Because if this was at the end, you would've had read the full story.
I'm toying around with wordpress as a new Article creator, since CN still isn't letting me do what I actually want to do.
And for that, a new layout is in order too. Just some minor things so far, but on my next break, I'll go work on it and get the site & comics active again.
That is, if HeartGold won't keep me occupied end of this month.
Ok, Tsunacon 2010.
I'll HAVE to make it short this time but there might be a longer version in the future.
It was fun, better than last years in any case.
Was cosplay as a Team Rocket member myself. You might've seen me when I was there.
The paint on my pants from the boots I was wearing was a pain to wash out.
Never paint boots in the winter.
I bought some nice stuff there. Like the Kaiyodo MPM with 02's corpse, from End of Evangelion. A Figma Nagato Yuki, since my Witch version got handicapped.. Some Revoltechs from Gurren Lagann and some manga.. Good lootings.
Sadly, I didn't win the AMV compo this year. Overall, I got 3rd Place.
But didn't get a prize.
Prizes were given to the 3 winners of their respective category.
Talked with some more people compared with last year.
Also got atta– I mean hugged by a lot of girls. Rocket's are chick-magnets, try it.
A bleach cosplayer threatened to kill me if I stole her Espeon & Umbreon cosplayer pals though.
As for loot, my January Order finally arrived after 60+ Days!
Doesn't top the 100 day Evangelion order, but I'm still pretty pissed about it.
Also bought some more Poke-stuff (Probably due the HGSS hype) like a Kirlia & Mawile figure, some Ralts & Kirlia cards, 2 boosters (FOIL HO-OH TOP HALF INCLUDED!!) and a shiny new red Nintendo DSi.
Got my Pikachu Colored Pichu, another event on the 27th (Arceus?)
Either way, I'm ready for March 26th!
..
That's the release date for HGSS here.
Till then, whenever I get WP working!