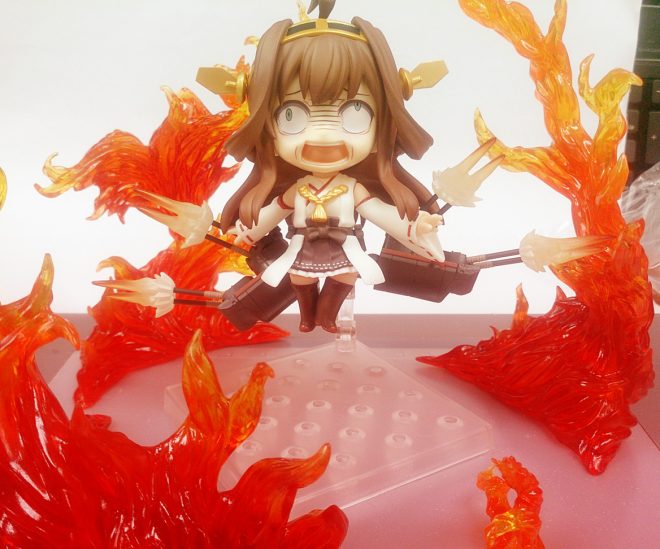 On a financial level (and sometimes the fandom too, but that's another story).
Collecting Japanese figures has gotten pretty expensive since I started ~10 years ago.
Now I'll admit I can be quite stingy with money/be a cheapskate, but the examples below show that the prices are just getting silly in comparison to what they used to be and what you got for it.
So let's go back a little, when yen prices were lower and the exchange rate was €1 = ¥170

My first purchase from Japan consisted of Revoltech Gurren Lagann, at the price of 1900 yen, and two prize-figures of 1200 and 1500 yen.
Now prize figures have remained pretty stable through the years, still being around those prices.
I wish it was the same for others.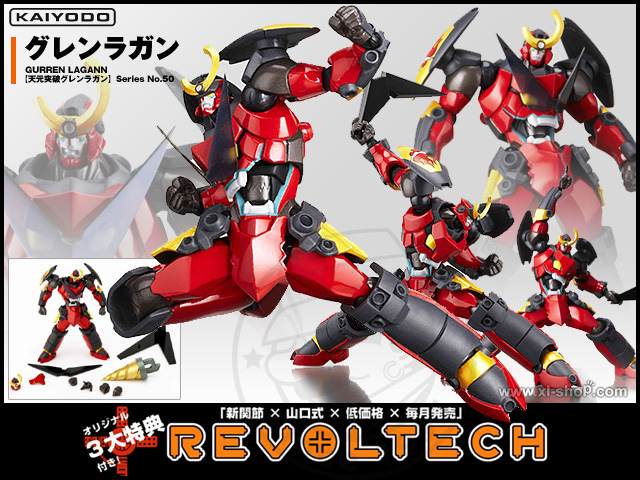 Gurren Lagann was Revoltech #50 and came with pretty much everything you needed, save the wings (They were split and added to Enki and Lazengann iirc) as they wanted you to buy them all – which I did.. <.< But it was a satisfactory product, even though mine came with a paintchip on his teeth which I still haven't fixed now I'm "older and wiser" and know not to fuck up painting.
Now let's look on MFC for Revoltechs that released in 2015 that don't have an expensive western-license attached to them..
Oh god, this is a bad one.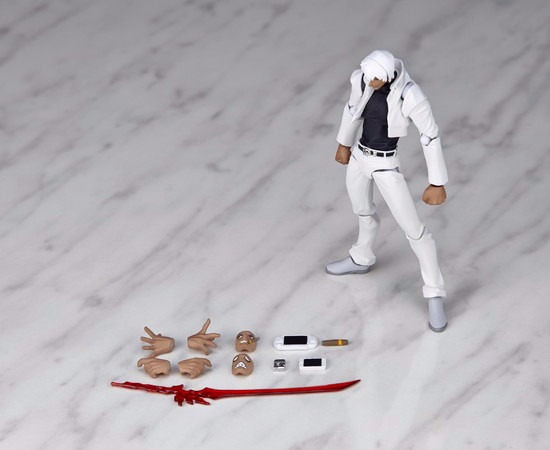 RevolMINI Zapp Renfro – 4800 yen (Manufacturer).
It's a mini and already almost 3x the pri-
H=120mm (4.68in) Wait, hold up.
What's Gurren Lagann again?
H=120mm (4.68in)
Huh. Weird realizing they're as tall as Figma Hachikuji.
Wolfwood, what were you again?
H=150mm (5.85in) / 2400 yen (Manufacturer) / 2010 Release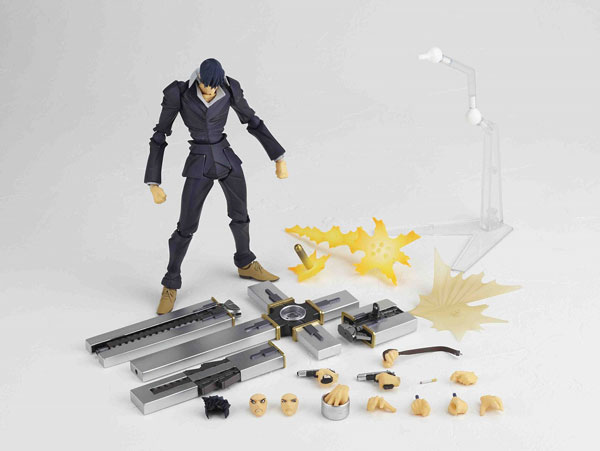 Okay, mini it is.
I know a lot of the mecha are smaller than the usual humanoids. Only EVAs really go taller than 150mm I think.
Well just comparing Zapp and Wolfwood, you already see a decline in what you get and an increase in price.
And that's 5 years in-between!
Just to add more salt, they re-released the old Hokuto no Ken Revoltechs and jacked their price up too.
Bah, economics.
---
My first figma was Witch ver. Nagato Yuki, for €25 at a con iirc. Lots of stuff, fair price. Just sucks I was an idiot who broke her arm off months later while swapping hands. In my defense, figma hands were terrible back then. I've got a bad track record with Haruhi-figma hands. Currently, Kimidori's extra head uses her arm-glued-on-body.
Buying online from Japan was Saber at 2667 yen. Wow, 1 whole yen more than Manufacturer price! HLJ confirmed for rip-off, nah. Just joking.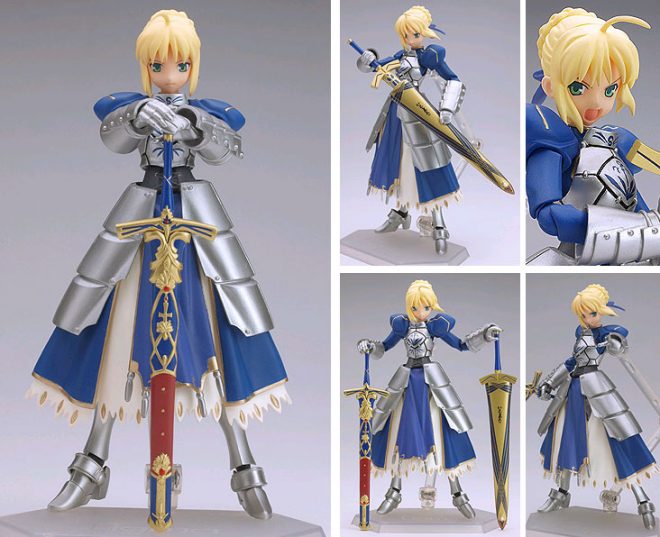 Saber is among one of the first figma (#3) and has gotten an upgrade (#227) in 2015 with a better sculpt and the new joint system.
*drum rolls*
4444 yen (Manufacturer)!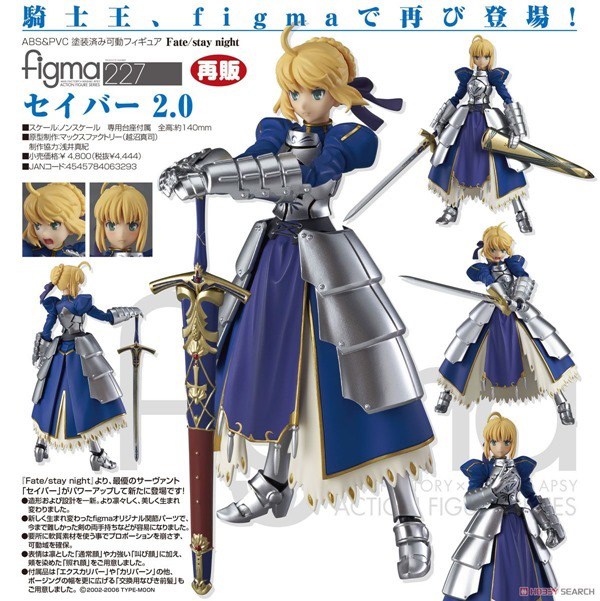 Well I only bought her with the latest re-release, still underway. But I paid about that with shipping included.
She's currently one of the Cheaper figma being (re-)released recently (Most figma are 6k+ now), so let's look into her year a bit.
In the same year of her original release, we got Skyward Sword Link (Who was cheaper now that I check), the amazing Silent Hill figma (about same price) and.. Here it comes..
Narukami Yu – 6000 yen (Manufacturer)
The whole reason I didn't get this figma, even though I got Minato Makoto now (Who's another overpriced 2017 figma). D-Arts Izanagi's so lonely.
Here's what Yu comes with: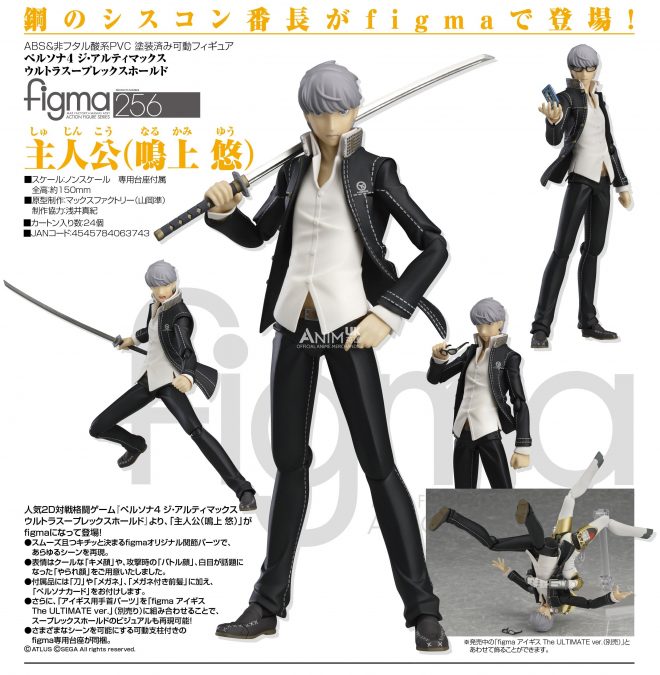 No, Aegis.. Aigis.. Whatever, isn't included.
A katana, tiny glasses and tiny card.
6000 yen for a schoolboy figma, and he's got an on-line exclusive coat which honestly should've just been included with the base figma for that price.
Actually, this whole GSC Online Shop bonus thing has been annoying me for a while. Forced EMS (=customs), full/higher price, tiny extra. Never done it.
Getting that extra part will cost me the price of another full figma thanks to all those other factors.
Now Link here came with more bang for buck and was cheaper than Saber:
And now let's look at the DX edition of Twilight Princess Link, who's releasing next week or so: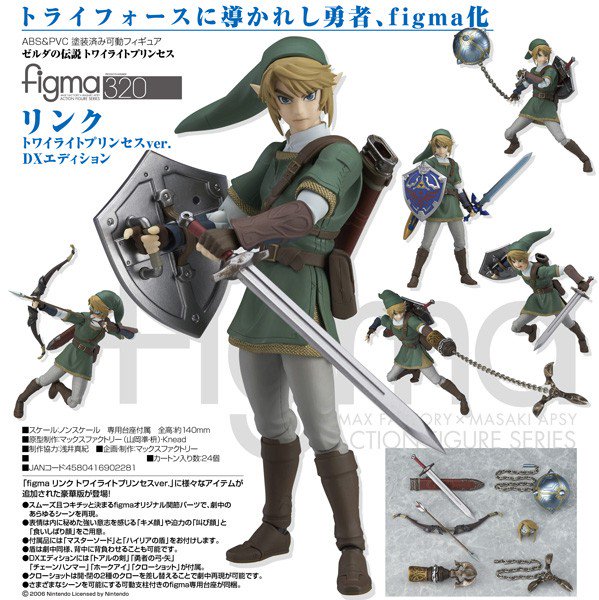 6000 yen (Manufacturer)
LOOK AT ALL THAT STUFF!
Now look back at Yu, who's the same price and released 2 years earlier.
ISN'T THIS SILLY!?
Maybe the Persona license is expensive and they have to add 3000 yen to the base price (Avenger ones are already ridiculous). Or maybe they're just greedy. I don't know.
All I know is that it's silly.
---
Moving on to why I even started typing all this – the figFIX line.
Back in.. I want to say 2014? the figFIX line was announced. Basically: Static figma.
Now here's what they said about it and is still on their site to this day, and I'll underline the important part:
"The figFIX series of figures is the same size as figmas (around 1/12th scale) so they can easily be displayed together, but they are fixed in a specific and well-known pose of each character, allowing for a more faithful representation as well as a reasonable price! The series allows the skilled craftsmen of Max Factory to put their skills to work on more delicate sculpting and paintwork for fans to enjoy! The head part of figFIX figures make use of the same joint as the figma series, allowing for some interesting display possibilities for fans to play around with as well!" – http://www.goodsmile.info/en/figFIX
A reasonable price.
And it was, for a time.
figFIX Shinobu was 2315 yen (Manufacturer) and Shimakaze 3611 yen (Manufacturer). Decent prices, compared to the figma which were 4074 yen (Manufacturer) for sundress Shinobu and 5370 yen (Manufacturer) for Shimakaze.
Then with Amatsukaze, it started to go up again.. (figFIX: 4167 yen (Manufacturer) | Figma: 5370 yen (Manufacturer))
The trend continued entering 2016, where figFIX were getting as – or even more expensive than figma.
Today I saw the price for figFix Maki (left) from Love Live:  5800 yen (Manufacturer)
Her figma (right)? 5370 yen (Manufacturer).
RIDICULOUS
(and I do mean both prices, 5000+ for a schoolgirl!?)
Now I've already had to pass on the God Hand figma from Berserk (with much regret) because with how they're bundled, the amazing detail and pvc making it go close/over 10k yen, and I couldn't pay that in one go at the time. And I can somewhat understand their pricing. Femto and the egg aside, the others are in bundles of 2; a figma and figFIX in one package, pushing the price up. Devil Homura also came out at a financially terrible time, and I still think her price is stupid. So my Madoka collection stopped at the TV series, no movies.
But this.. I just cannot.. What the hell, man. You using a dartboard over there?
I honestly feel that's how Max Factory is determining their prices. Look back at DX Link, he's 700 yen more and comes with a lot more.
---
1/12 Articulated figures have been invading the 1/8 PVC range for a while now, and their prices have started to rise too.
I don't buy many scale PVCs myself, since replacement is harder (I received a damaged Kobato figure and all I got was a 500 yen refund).
From ones I currently own, I got most through sales, or when their Manufacturer prices weren't absurd.
For many years, the 1/8 Black Rock Shooter (based on Huke's illustration) used to be my most expensive PVC figure at 9k or so yen.
It got dethroned by Kirigiri and the Seven Sins, which were over the 10k mark, and finally by the latest Kanade figure by Broccoli at 16k, which will be wearing the crown for a while. Wing's Saya and Orchid Seed's Snow, who are both on preorder, are slightly behind her.
Aquamarine is on the horizon now with another Kanade fig, and you know I do love me same Kanade. It'll probably also be around 10k looking at their Chris figure. Expensive hobby is expensive.
Pays off not being into fashion (this shirt is HOW MUCH!?) and not being a smoker/drinker, I guess.
---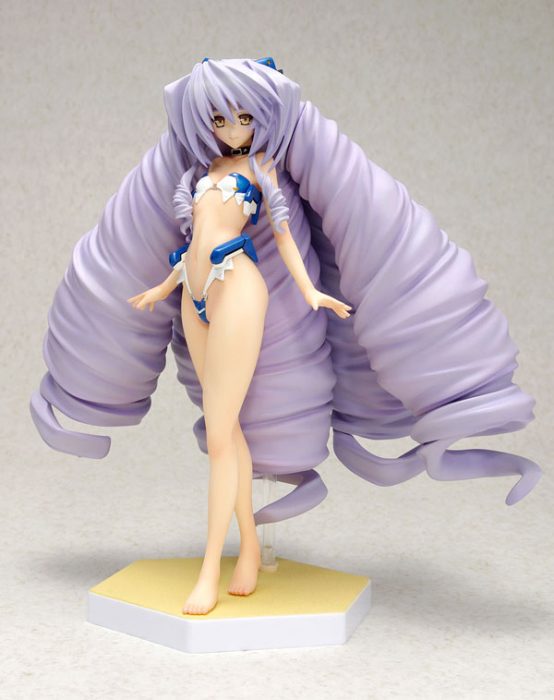 Remember Beach Queens by Wave? 1/10 figures in swimwear, ~3000 yen? It's now double that. And it's the same quality too.
The most expensive one back then was Nate from Horizon, 7000 yen or so. A special case, because you could literally make a 2nd figure with the amount of PVC that was used to make her hair (see image).
I wanted Marika (best Nisekoi), but I'm not paying 6000 yen.
Strangely, Nendoroids have been pretty consistent, and Bandai's still going all over the place. Mainly the exclusives go for insane prices.
---
It's 2017.
After reaching the bottom in 2012, the exchange rate has recovered a little, fell down again and now we're recovering, again.
Currently it's around €1 = ¥125.
Prices are high, exchange rates are crap, European customs are still the bane of anyone ordering from Japan here (FREE TRADE WHEN!?!?) and everything is only going to get more expensive.
The average price of a figma is 5-6k yen nowadays instead of the 2-3k yen of old. That'll most likely increase by another 1000 next year. Whichever moe slice of life anime will come out then, those schoolgirls with few to none accessories will cost you a lot.
Have a timeline:
2008 – Haruhi: 2300+ yen
2009 – Lucky Star: 2300+ yen
2010 – K-On: 2600+ yen
2011 – Ore no Imouto: 2600+ yen
2013 – Hidamari Sketch: 3000+ yen
..ok, so not many shows of that type really got several figma at the same time (can't even remember much while typing this), since it's all boatgirls now and Girls und Panzer came with tank parts.
Idolmaster – if you want to count that too since I'll be including LL – also sorta started as Exclusives of 3k+ yen, and the standards are now going for 4-5k+.
Still salty about making those TV versions though.
2015+ – Love Live: 5000+ yen
---
Oh, here's another terrible one: Osomatsu-san.
Literally the same figma, only slightly different hair & faces. There are 6 of them. And all 3600+ yen.
Gotta catch 'em all, eh? Making Vocaloid Rin and Len must've been harder/cost more in 2008 and they were what, 2k each?
Army-building Revoltech Skeletons is more fun – and a bit cheaper, too.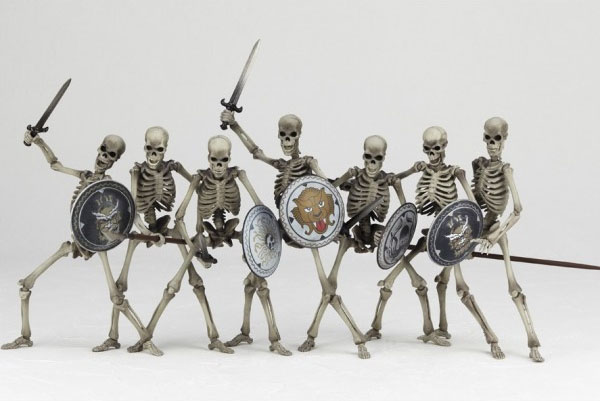 ---
You can see this was mostly about figma, they're the ones I mainly collect, so of course I follow that more closely.
I more or less stopped with Revoltech after the Rebuild EVAs since the quality to price ratio with them got worse and not many new interesting characters (So glad Klaus is getting a figma though, fuck that Revomini). I'm kinda looking into D-Arts/SHF/Bandai's stuff because they're making figs of characters I like that Max Factory isn't touching (Elizabeth for example), but their quality also leaves much to desire with how they leave the nubs on their figures. If I wanted a pre-assembled plamo kit, I'd just buy the kit and build it myself – more enjoyment.
And of course, instead of them they're still pumping out figmas of Miku and Saber left and right, while I'm still waiting for characters to finish sets with; like Chris (Symphogear), Alphard (Canaan) and Inia (Muv Luv)  ..goddamn nendoroids getting them, but not figma.
The future is bleak.