Site History
Anime-Envoy started in 2005 as a site to inform people of anime and to let them read summaries about them.
The site slowly evolved into a more multi-purpose one after Webcomic "Anivoy" was added and a couple of downloads appeared.
Eventually, how hard as I like to admit it, Anime-Envoy became a sort of blog site with additional goodies.
In 2006 the site got a visitor boom after the Guild Wars themed webcomic "Requiem for Sanity" went online.
As I posted updates about these on several Guild Wars forums, it started to gain a fanbase.
Unlike the Flash OPs that Anivoy got, Requiem got an additional mini flashgame, a fanfic "The Tome of Lord Odran" and a more expanded character profile app.
However, for continuity reasons and me often being a lazy ass, Requiem updates slowly (Sorry).
Meanwhile, Anivoy had its up and downs and went into hiatus so Requiem could get more attention.
The outcome being that Requiem has caught up with Anivoy's comic count.
With 2009 came  a hosting switch. After the move, I got an extra domain to use.
Anivoy.com was made which turned into my web Portfolio and the new home of Webcomic "Anivoy" T2 (Take 2, doing it right!), which is currently a mix of drawn- and photo comics.
Things didn't go "just as planned" due myself suddenly being found in Internship where I had to work. At least I got paid..
And with those funds, Anime-Envoy gained the "Anime-Envoy Corner~!", hosted by Gin-chama (Eventually scrapped, though the figure posts still pop up – a  lot).
These consisted of monthly posts showing merchandise I had obtained.
The AEC later got me into photography and playing around with comedic scenes for my articulated figures like Revoltech and Figma.
That was the point of no return, where I spend all my money on those Japanese toys.
2010/2011 were horrible with my mother fighting cancer.
She eventually passed away mid-2011. Blog & comics were updated far apart from each other.
2012/2013 was HIATUS HIATUS HIATUS.
I didn't feel like doing anything anymore.
Now that we're in 2014.. Lots of plans.
Current State:
Looking for a job, please hire me.
A 3rd work is in the.. works.. A GW2 multimedia project called Scéal: The story of us, all of us.
It'll be a bunch of stories being told through novels, comics, VISUAL novels and maaaybe audio dramas.
As such, I'm taking my time on Requiem to make connections here and there so you can OH MY GOD, THAT FORESHADOWING and stuff like that. And I still hate deserts/jungles.
Yes, first a centaur stopped me from drawing now it's that blasted landscape.
Trust me, once we get out of there, things will pick up FAST!
I'm skipping Cantha and going straight for Elona. Maybe. You'll hear what happened in Cantha in there.
Cantha's Chapter will still get its own in-depth comics when it's all over though.
I'm just in a GW2 rush.
But figure comics?
Those are easy to make.
Follow The Legend of Araragi-kun in the Webcomic "Anivoy" T2 Archives!
Link Us
Feel free to slap a button/banner on your site if you want to like to here.
If I fancy your site too, I might even link back!
Here are some fancy things you can use:
88×15 Buttons:



88×31 Buttons:





200×40 Banners:







Banners:










Donate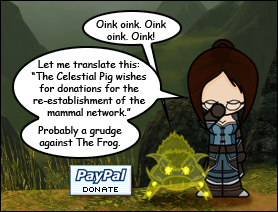 Money doesn't grow on trees. Well, it does if you think about it. Paper = Wood = Tree.
Anyways, this is just for side-funding. See it as a piggy-bank for life savings. Only this could be used for an emergency site-paying or something.
People who donate will receive some personal drawn art of course. Don't force yourself, just donate if you can miss 5cts or more.